A special "Gal-entine's Day" afternoon dessert party…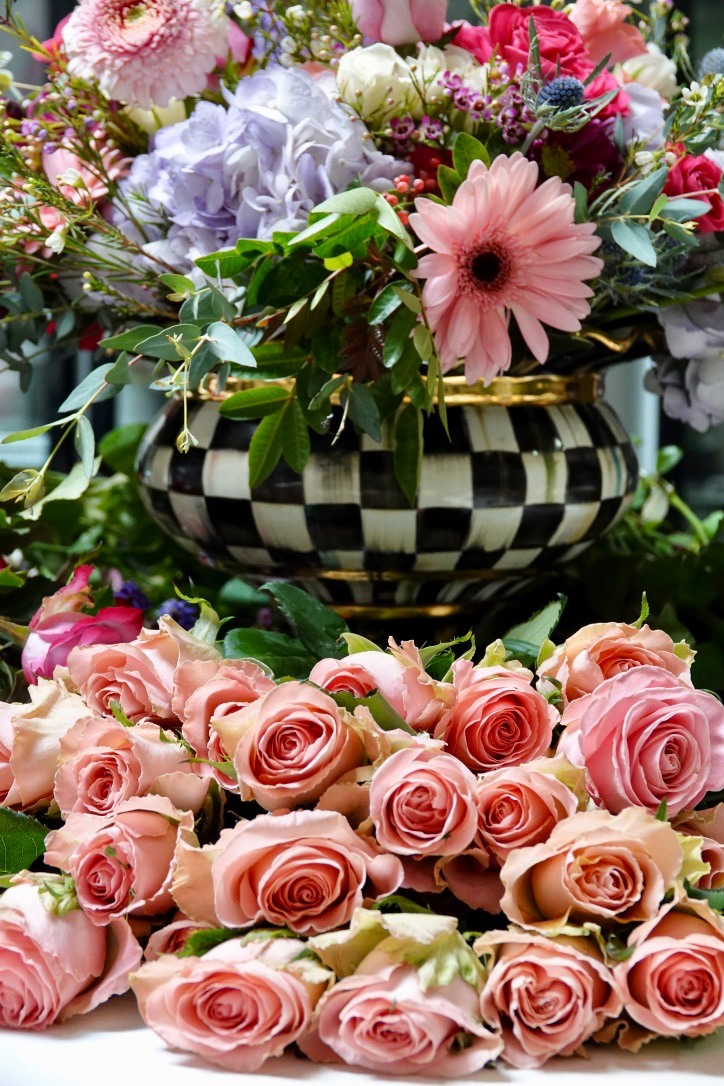 I grew up thinking that Valentine's Day was simply about celebrating with pinks, lavenders, reds and plenty of hearts! It was about making special cards for classmates and neighbors, baking heart shaped treats and helping set a pretty table for dinner…and opening my very own box of See's Chocolates. Valentine's Day was always all about being kind, even to the boy in my forth grade class who pulled my braids during recess!
For many years my mom planned simple after school Valentine parties for me and a few of my best girlfriends. We decorated shortbread cookies, made heart shaped crafts of some kind, drank pink lemonade and celebrated "Gal-entine's Day"! Simple, old fashioned and filled with laughter, fun and plenty of pinks, lavenders, reds and hearts…the best! And no boys…ha ha!
With these treasured memories from my childhood on my mind,  I am thrilled to share this special "Gal-entine's Day" afternoon dessert party with you!  It has been such an incredible honor to collaborate with  MacKenzie-Childs…and I can't wait to share all the extra special details…with plenty of pinks, lavenders, reds and hearts…laughter, friendship and fun!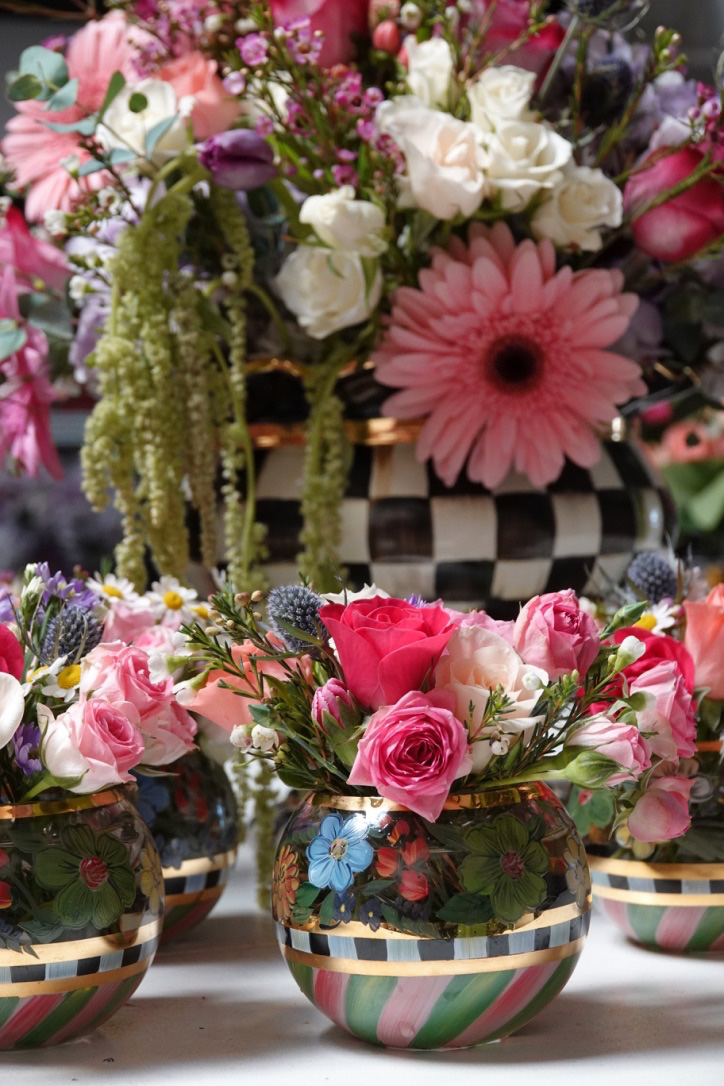 Before I share the details of the afternoon "Gal-entine's Day" dessert party I thought it would be fun to give you a tiny peek inside my flower shop, Fig and Twigs. I created all of the floral arrangements here first, there's plenty of room and I think the MacKenzie-Childs vases look absolutely gorgeous against the black and white striped awning above the floral coolers…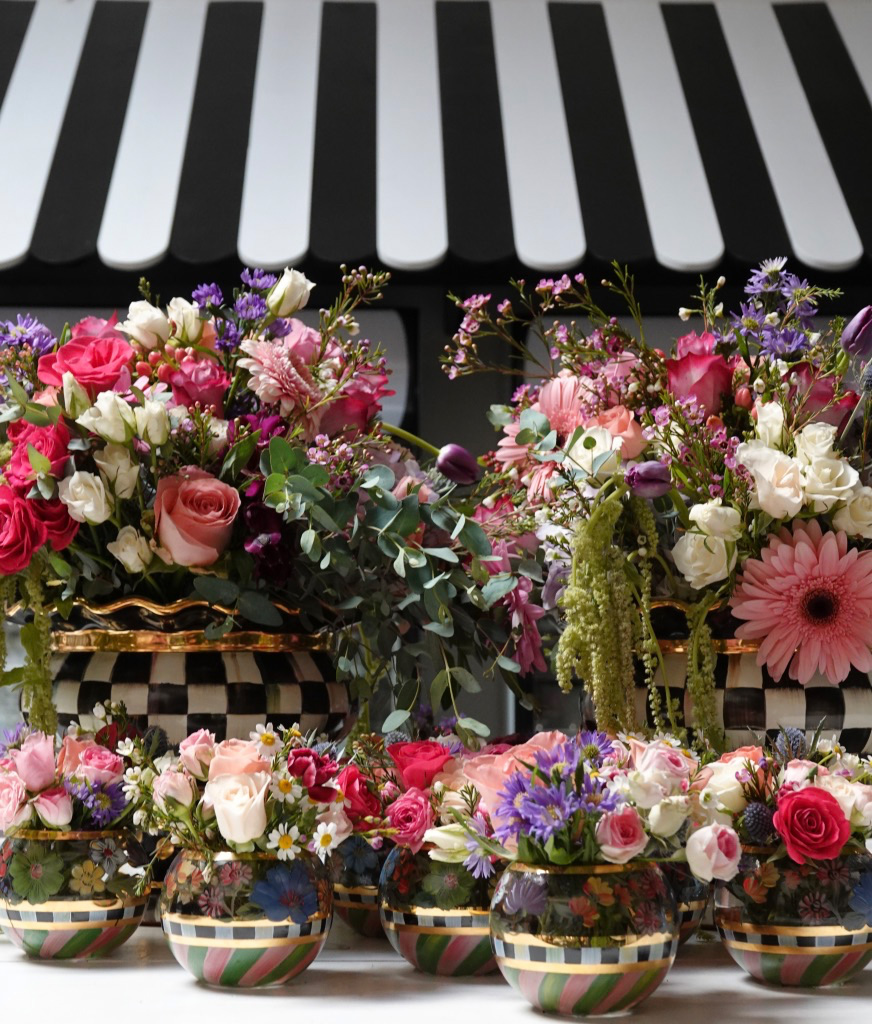 The beautiful MacKenzie-Childs Courtly Check Stoutly vases and these darling Flower Market Glass Globe vases were the inspiration for the look and design of the dessert party. The floral design on the little vases truly reminds me of a favorite Flower Market in Paris!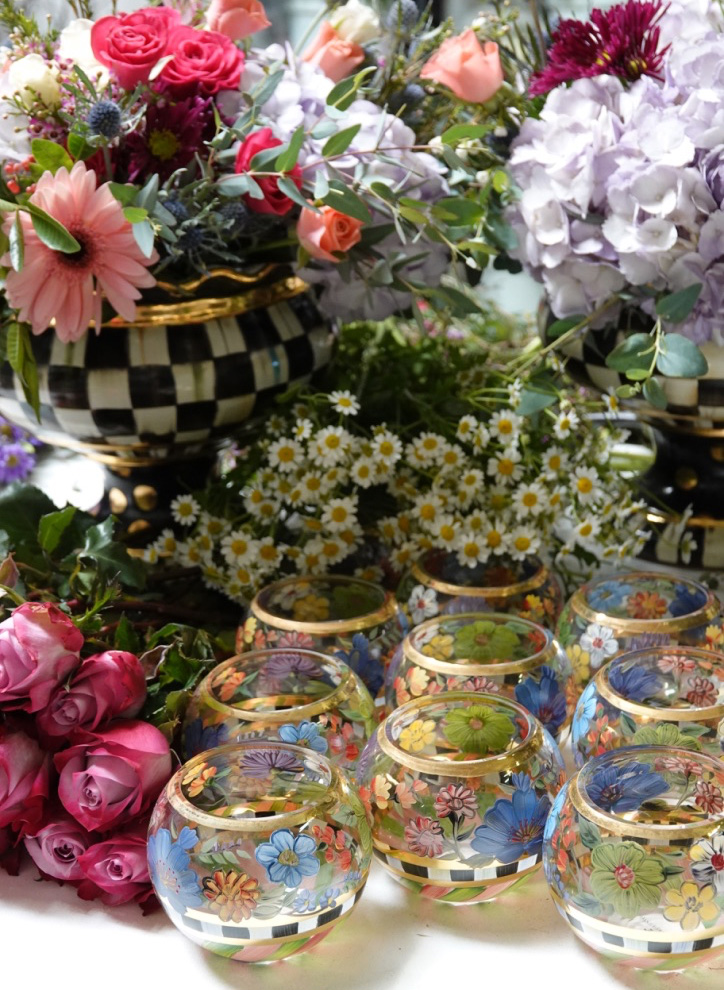 Having a collection of colorful fresh flowers from The Flower Market in Los Angeles made filling the beautiful vases easy! I love going to the Market at about 5:00 a.m., the sights and fragrances that fill the huge floral buildings is truly magical. If you ever have a chance to visit I promise you will love every minute of your adventure!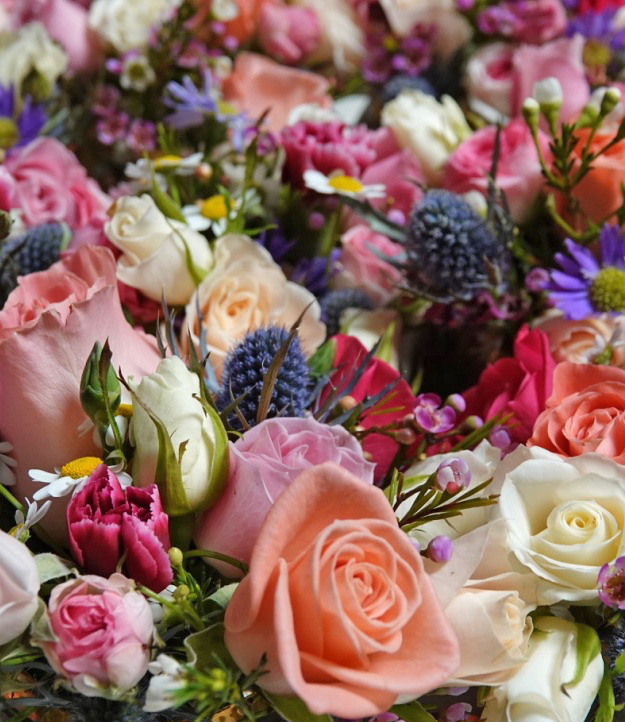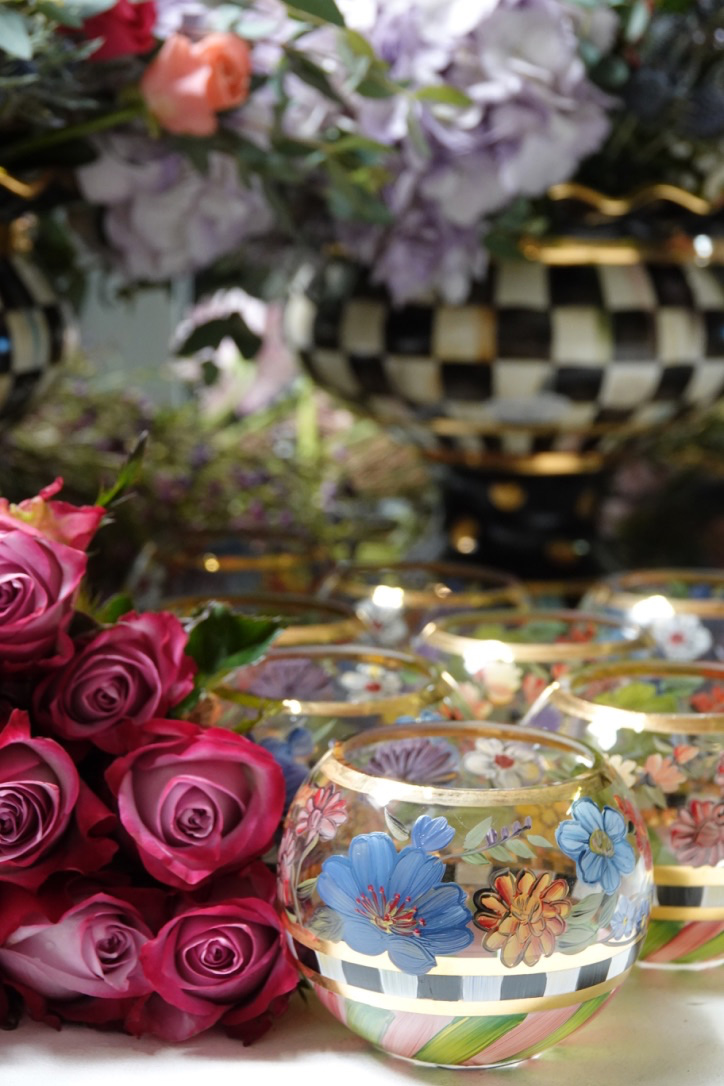 The Iconic MacKenzie-Childs black and white Courtly Check is my favorite…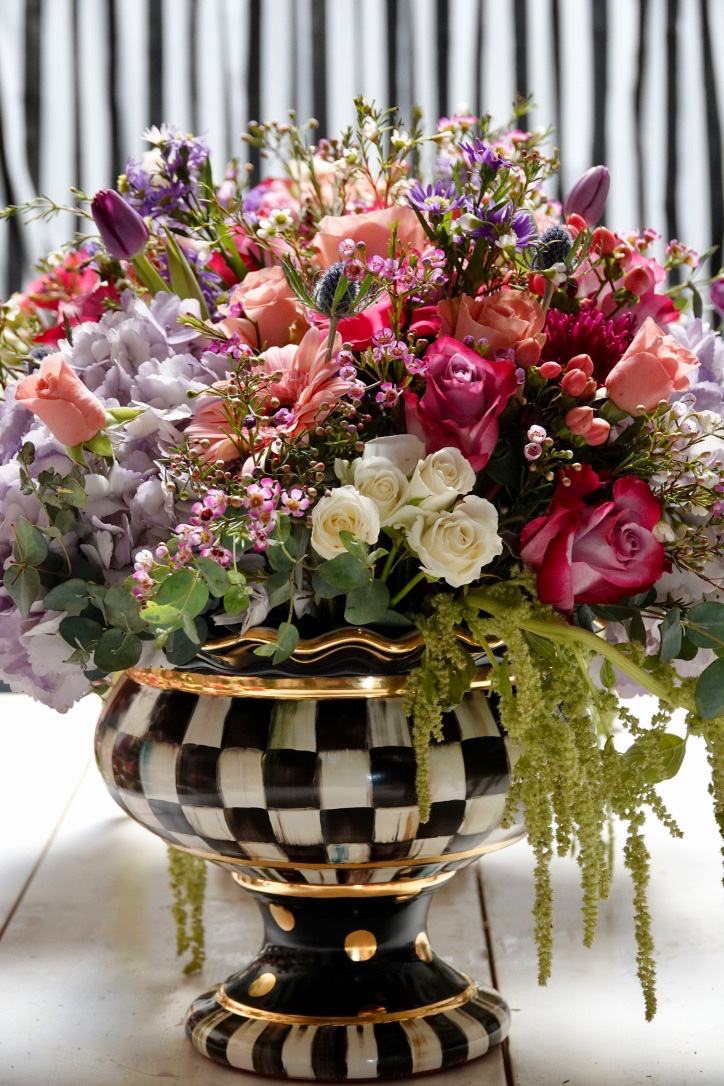 With all of the vases filled and ready…it was time to start baking!
Baking has been a wonderful hobby of mine for as long as I can remember…cakes, breads, cookies, pies, petite fours…I love to make them all! Just incase you didn't know, I owned a culinary school for over ten years. I taught cooking classes to children and adults in my home, at Williams Sonoma and Sur la Table. I also had a little cooking show on TV for a few years until my family and I realized that filming in our home was rather hectic!
I decided to choose a few favorites for this afternoon gathering of "Gal-entines". My simple old fashioned chocolate cake with vanilla bean buttercream frosting is one of my most requested recipes. I knew that this had to take center stage for this party!
The gorgeous MacKenzie-Childs Courtly Check Fluted Cake Stand  couldn't be any prettier and is just perfect for this special occasion! It truly is the icing on the cake…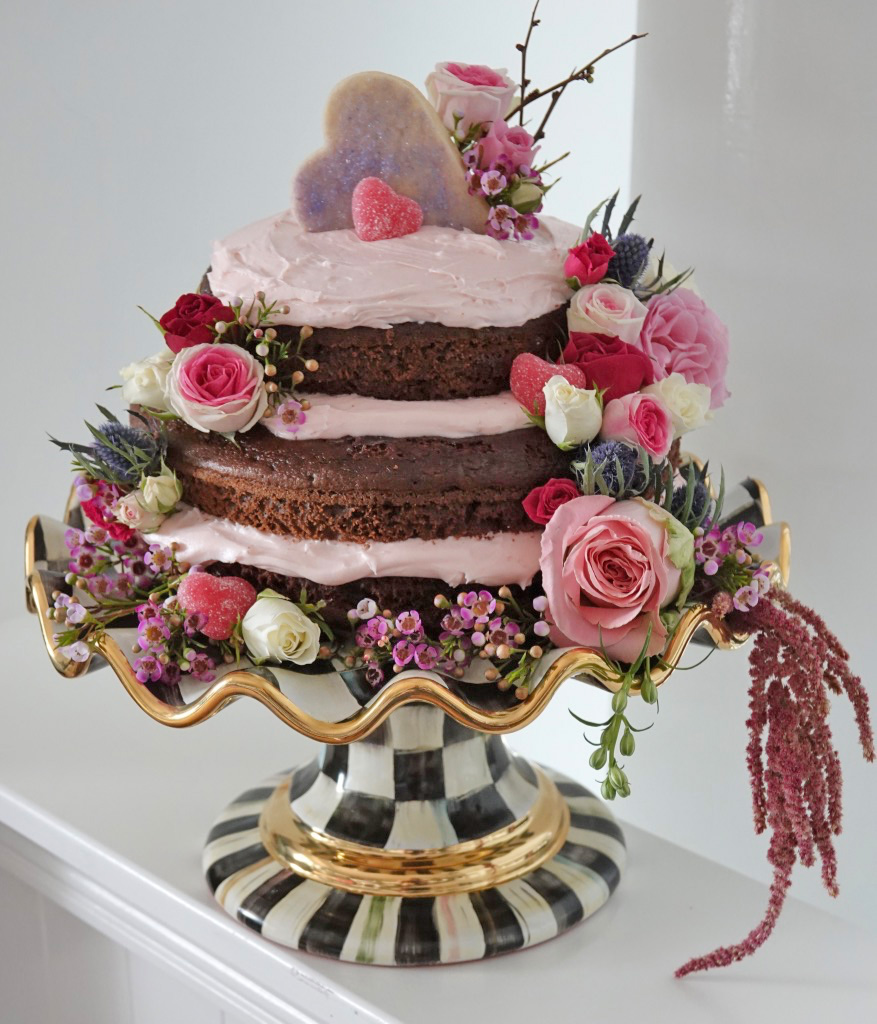 I love to add oodles of fresh flowers to my cakes. Be sure rinse them prior to adding them to your cakes! The will stay fresh all day long and add an extra touch of whimsy and fun…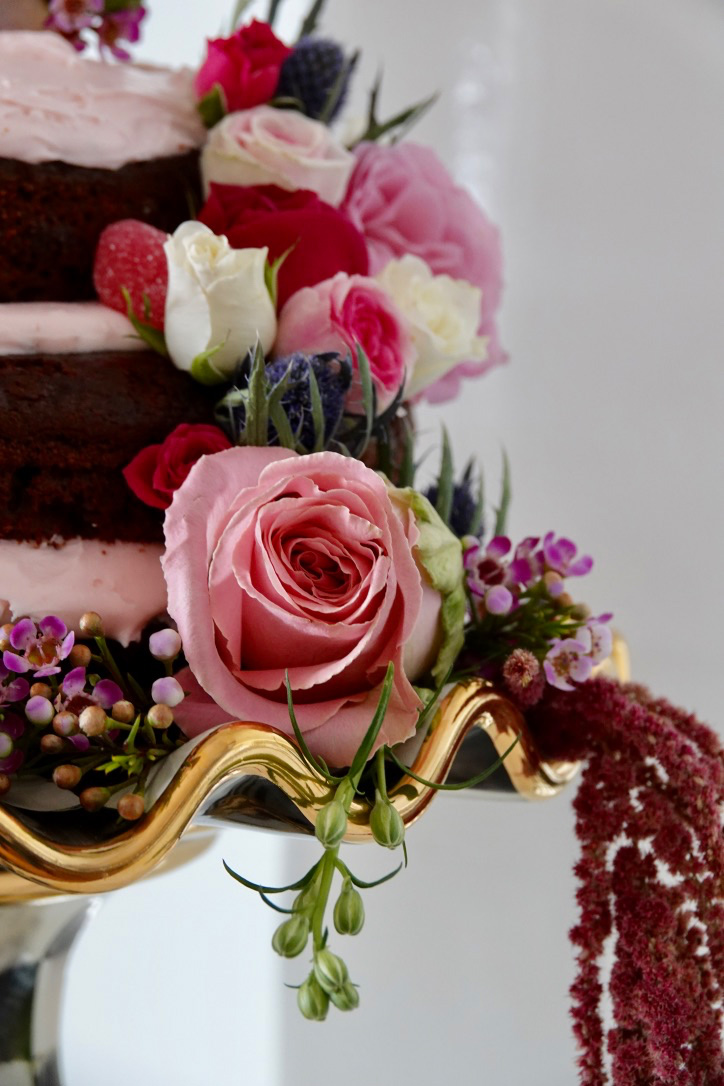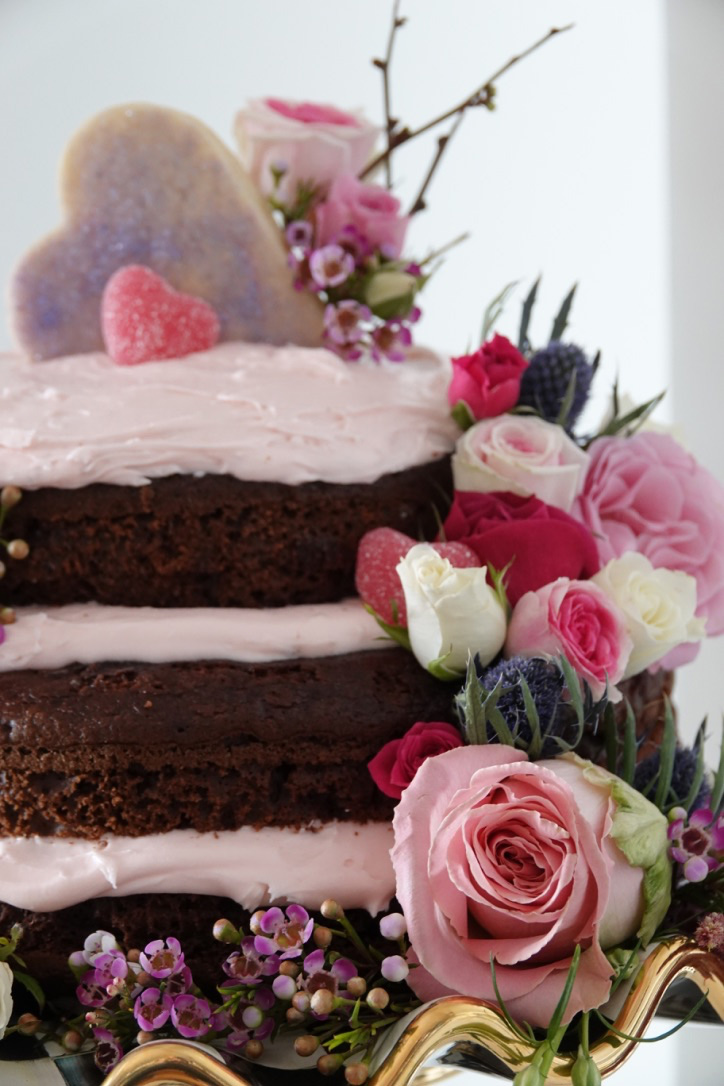 Chocolate cake, shortbread cookies, petite fours, fresh berries and pink lemonade…simple and a perfect menu for a little get together!
Setting the table was a joy! My husband made this table for me after I fell in love with the iconic black and white MacKenzie-Childs Courtly Check pattern years and years ago at the MacKenzie-Childs store in New York. For countless years I dreamed of having a fun long black and white checked table that would fit our entire, growing family. This table that Bill made for me is a treasure that I truly adore and it is certainly big enough to seat our whole family…and extra friends!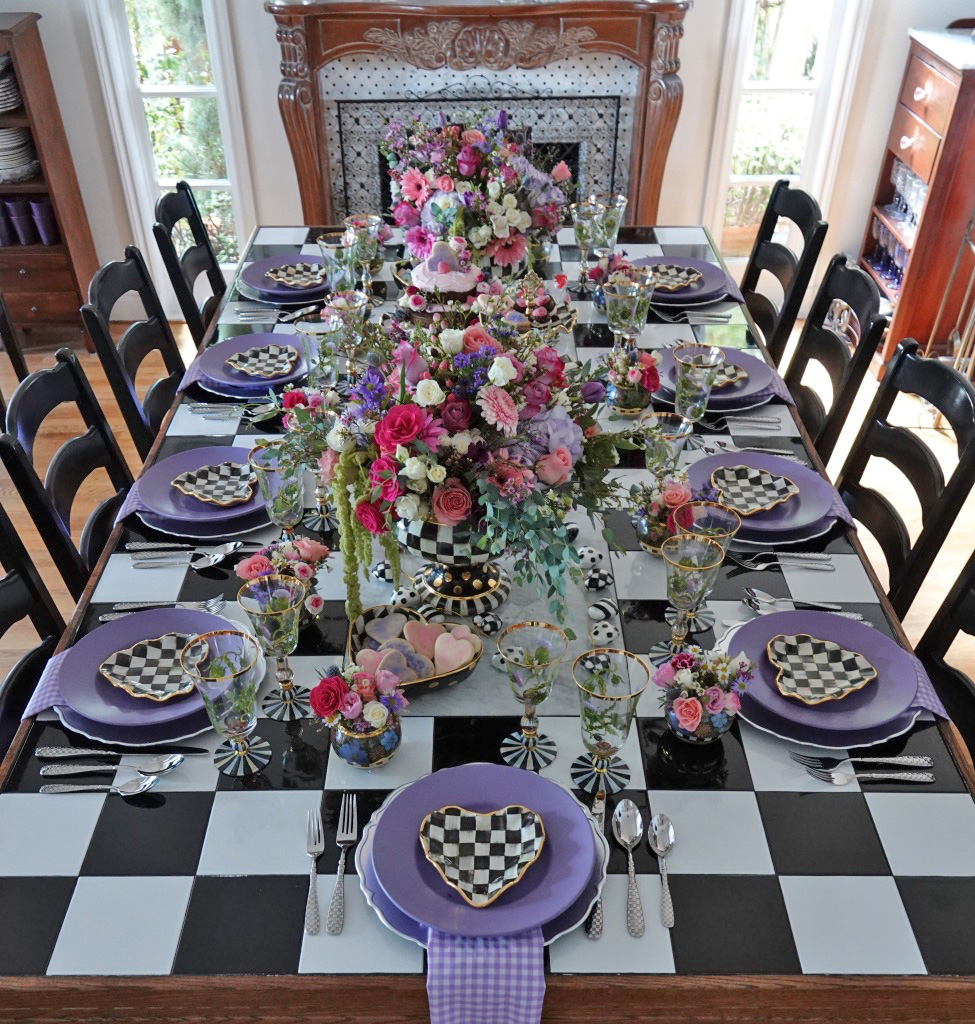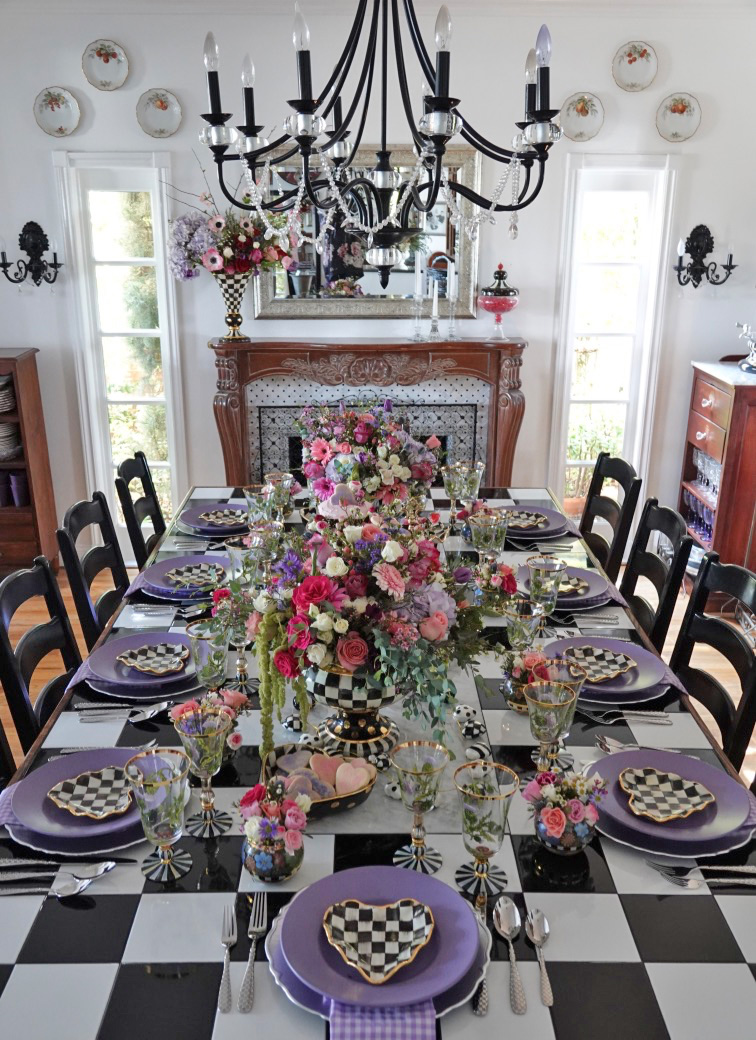 Every design that is created by MacKenzie-Childs is just beautiful! I adore these Thistle glasses, they are so "me"! I am 1/2 Scottish so I love anything with a thistle…and just look at the darling striped base…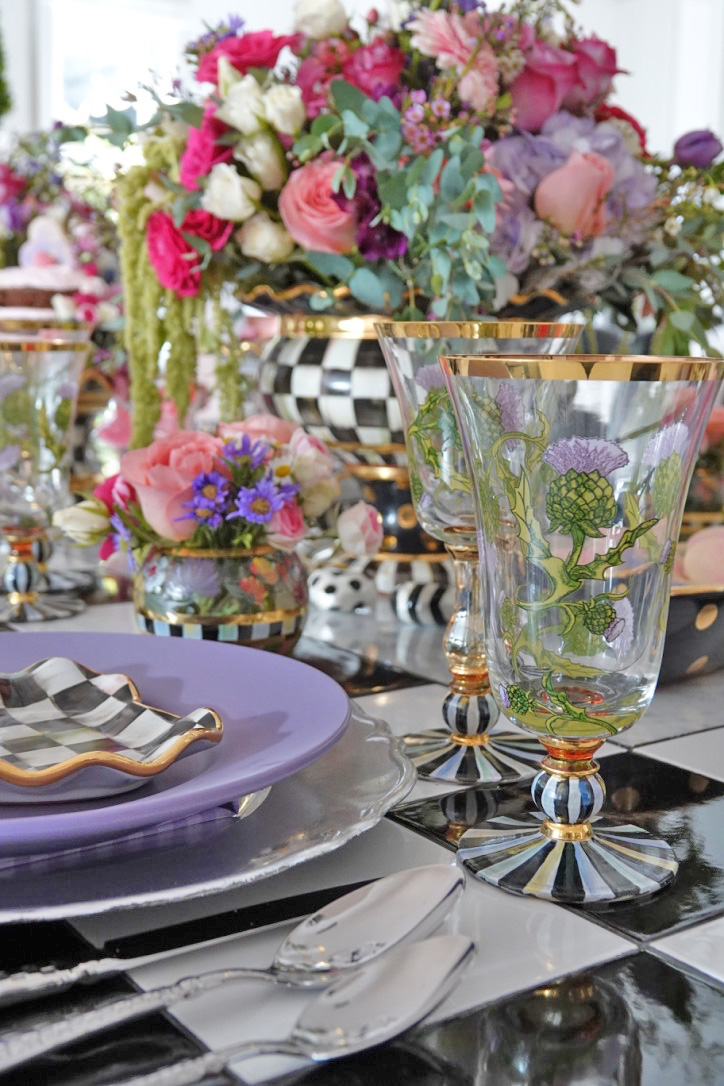 I love to place individual little vases of tiny blooms at each setting. When the party ends the flowers are a perfect little gift to send home with my guests. My mom used to do this and I think it's such a lovely gesture… The small Flower Market glass globe vases are the perfect size for these little posey bouquets…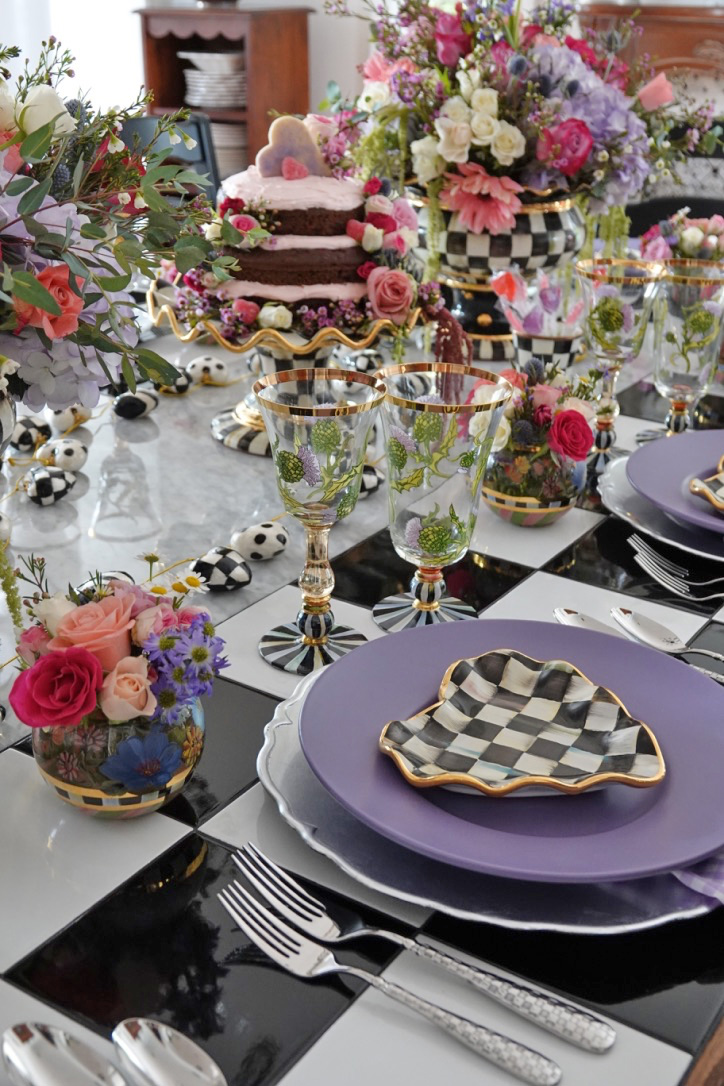 I have been a collector of hearts since I was a little girl. From heart shaped rocks to heart shaped cookies…I simply adore hearts! I am still guilty of signing my name and dotting the "i" with a heart, ha ha!  I first saw these fluted heart dishes when I visited MacKenzie-Childs last summer in Aurora, NY,  I fell in love with them. I had the opportunity to watch one of the artisans carefully hand paint the courtly check pattern on the plates. The amount of time and care that goes into each dish is incredible, they certainly are works of art!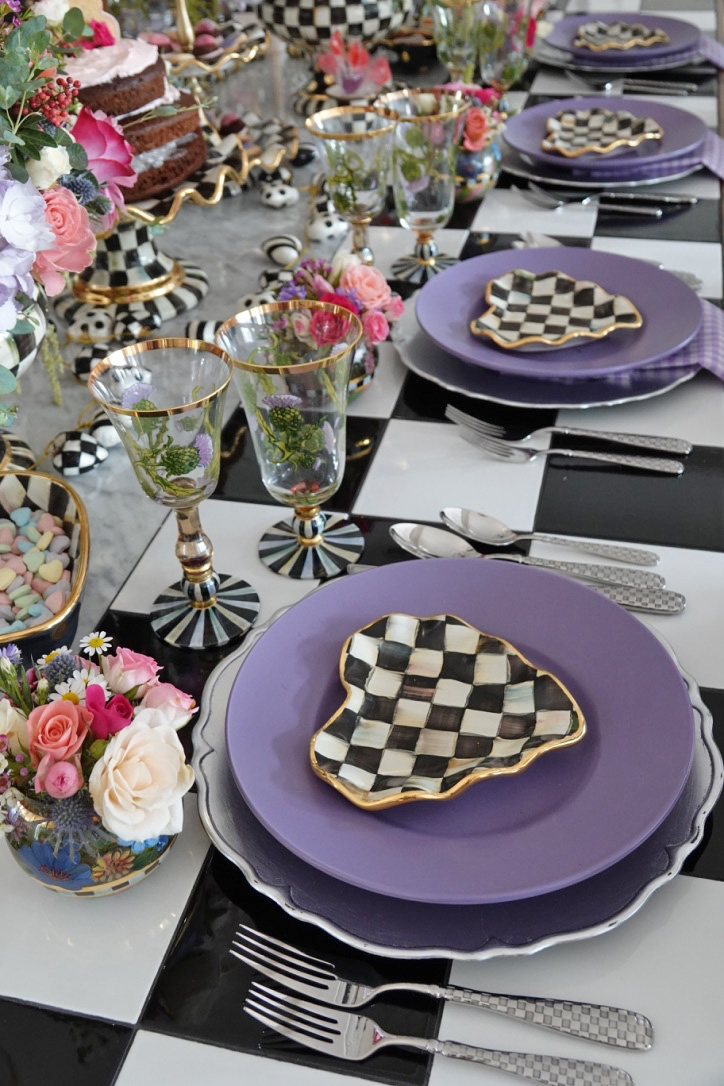 The check flatware adds a fun elegant touch to the table design and the happens to match our table perfectly! Isn't it fun?
Planning this "Gal-entine's Day" table has been such fun! Adding little touches of whimsy here and there was so easy with  MacKenzie-Childs treasures. The black and white heart garland added a touch of love through the center of the table, these are the cutest hearts!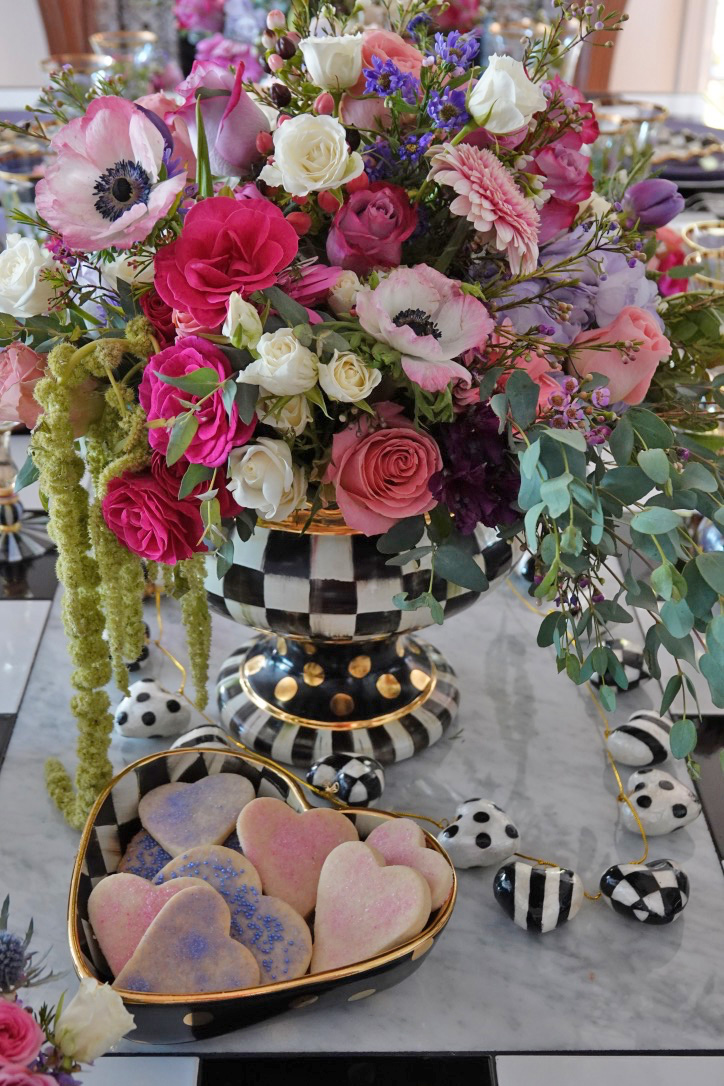 This Scottish shortbread recipe has been a family favorite for years and years! Sometimes I give them the light dusting of sprinkles, other times I dip them in dark chocolate. Either way they are scrumptious and so easy to make! And look so pretty tucked into this adorable Heart Bowl!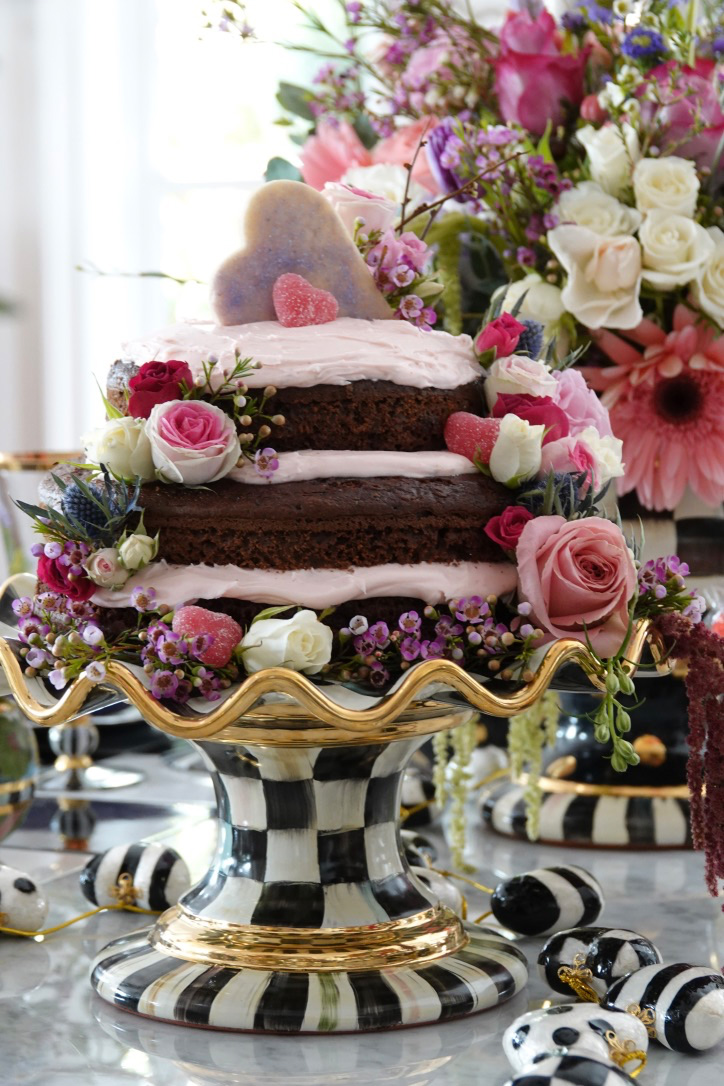 They even look cute on top of cakes!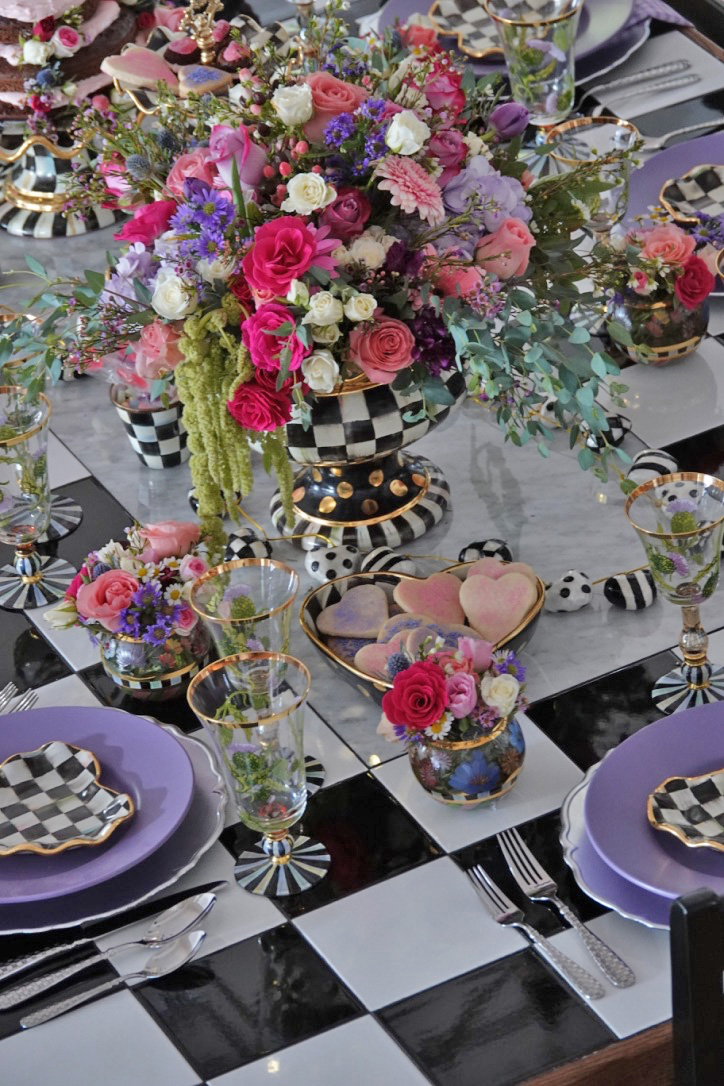 This my favorite way to display a variety of desserts…
The MacKenzie-Childs Three tier Sweet Stand….So incredibly elegant! It certainly makes a little get together with my gals extra special…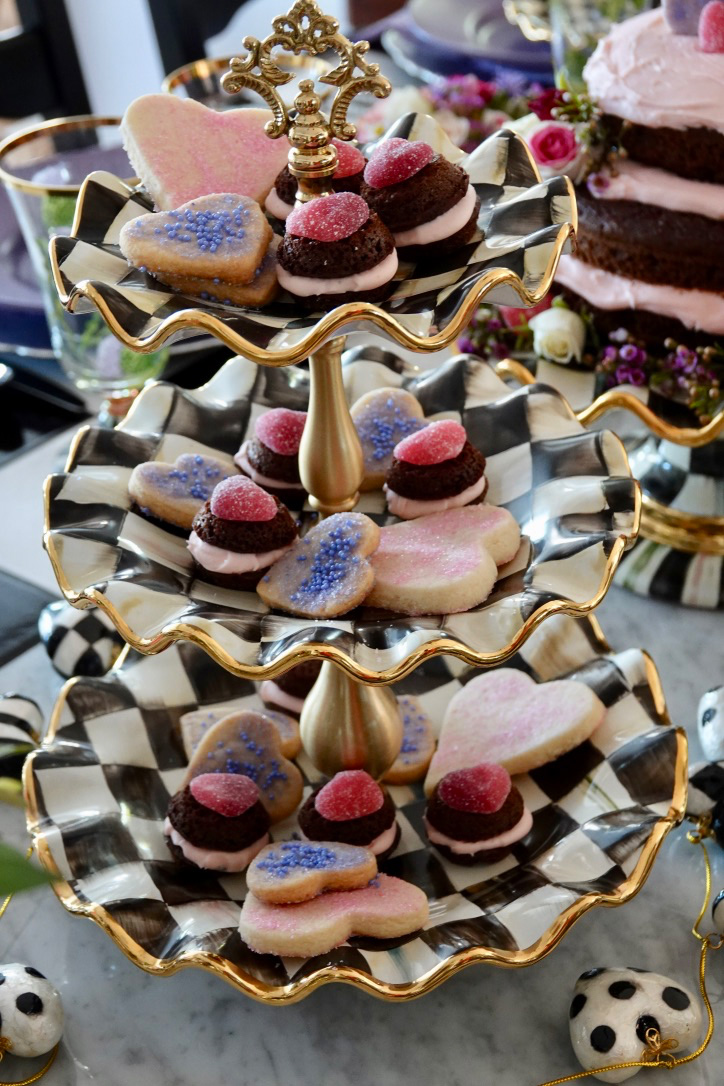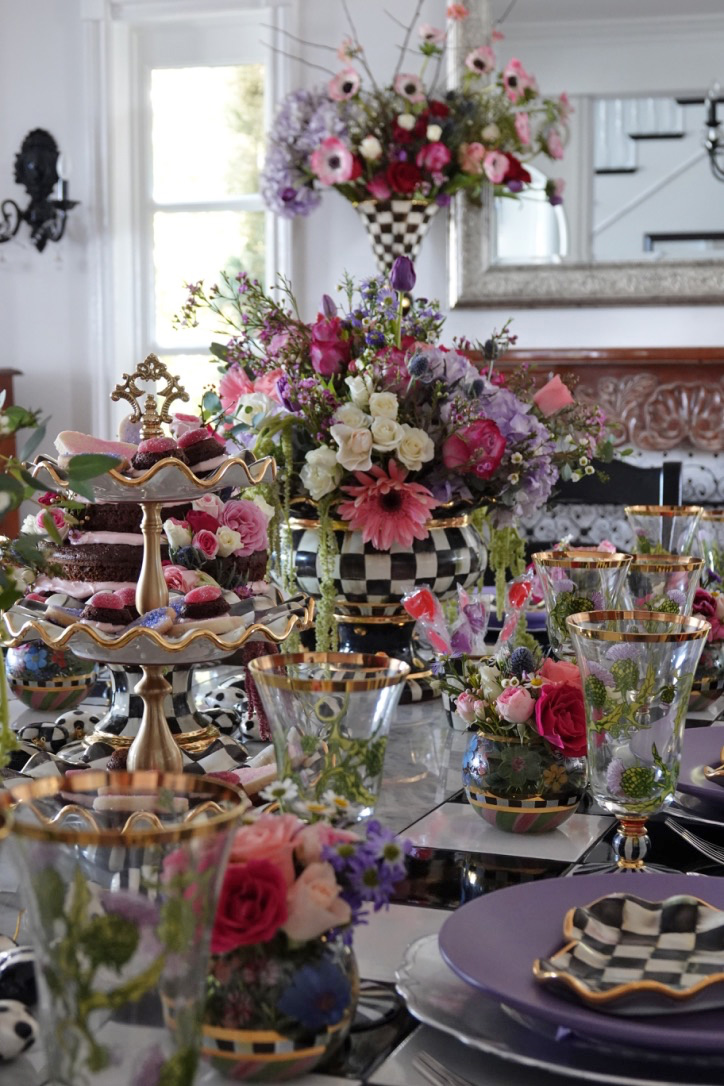 Daisy Rhubarb was hoping that one of these place setting was for her…she was also happy just trying to fit between two settings! Any place was just fine with her…just as long as she could see and sniff the out of reach treats! Don't worry…she gets plenty of puppy treats all the time…she is a tiny bit spoiled!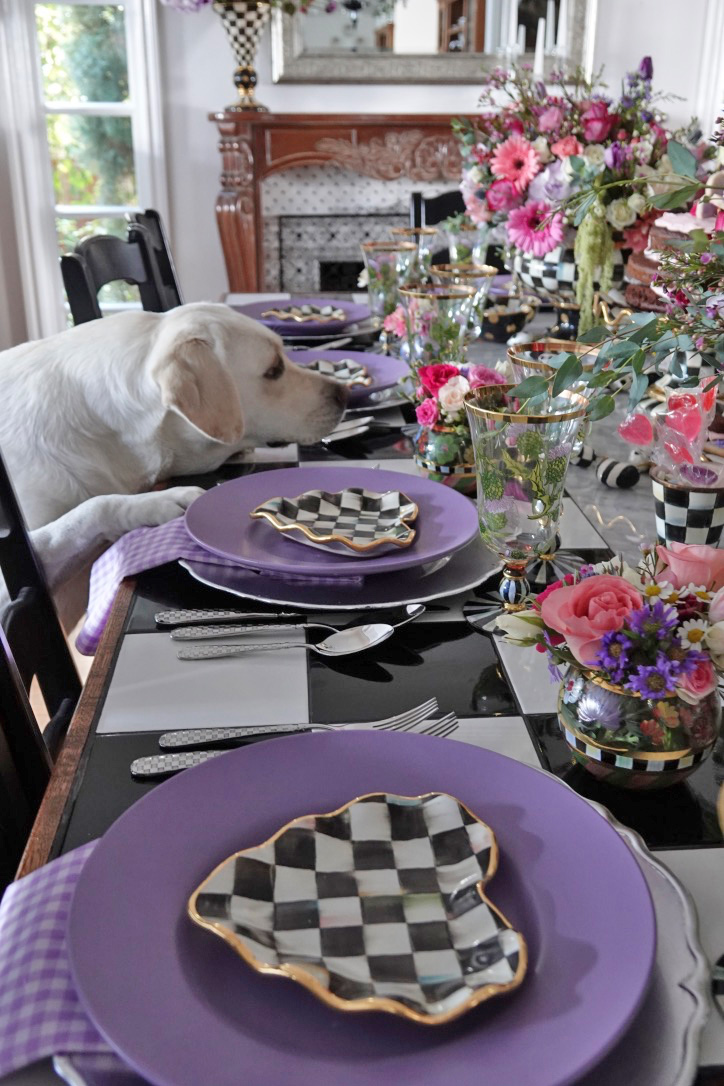 I found these lavender plates at a flea market over ten years ago. I have 24 of them, perfect for large family gatherings. I adore the contrast with the Courtly Check heart plates…layers of delicious whimsy! The napkins are made out of gingham fabric, they are 24″x24″ and easy to make…I just sewed a simple hem on each side.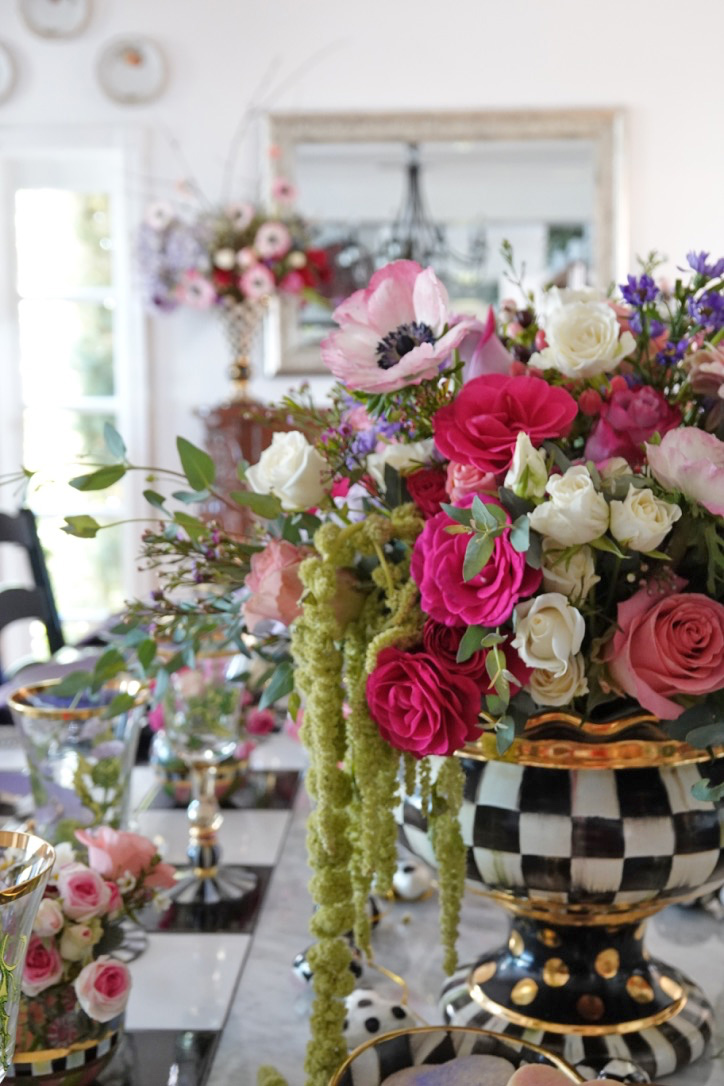 Filling MacKenzie-Childs vases with fresh flowers is such a joy. Having even just one beautiful flower filled vase in our always makes our home feel fresh and filled with whimsy and joy!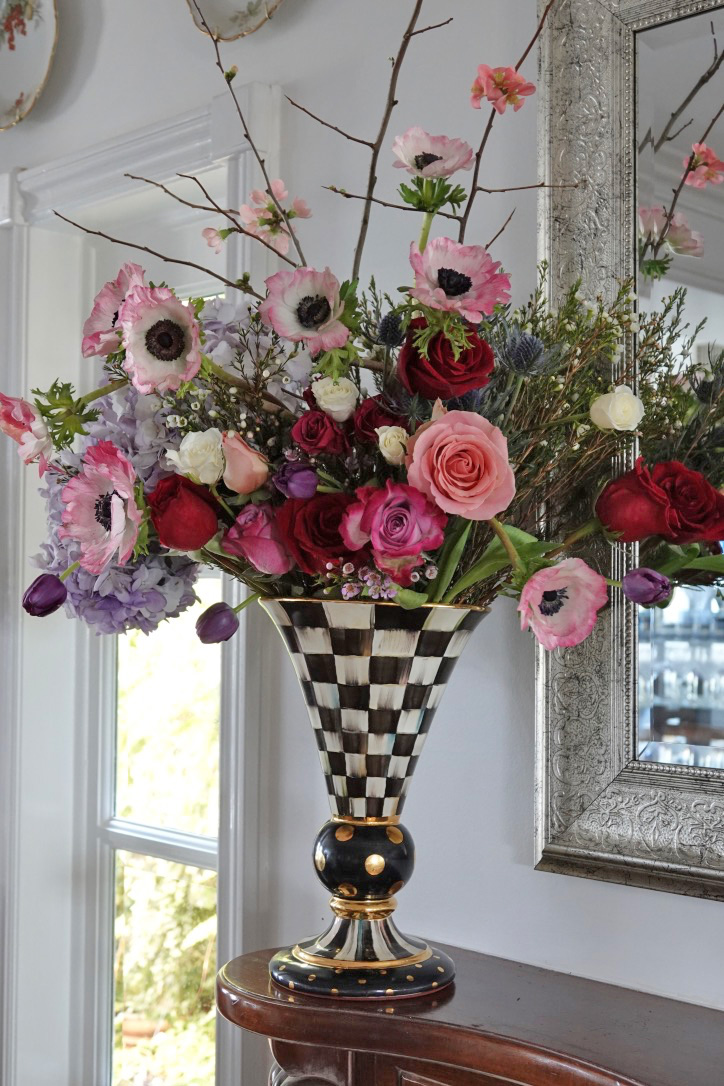 For the floral arrangements I selected Anemone, Roses, Scottish Thistle, Statice, Green Mist, Queen Ann's Lace, Petite Carnations, Quince twigs, Hydrangea, Tulips, Wax, Amaranthus, Chamomile, Genista, Stock, Button Mums and Hyacinth…all favorites! The combined fragrance is beyond dreamy…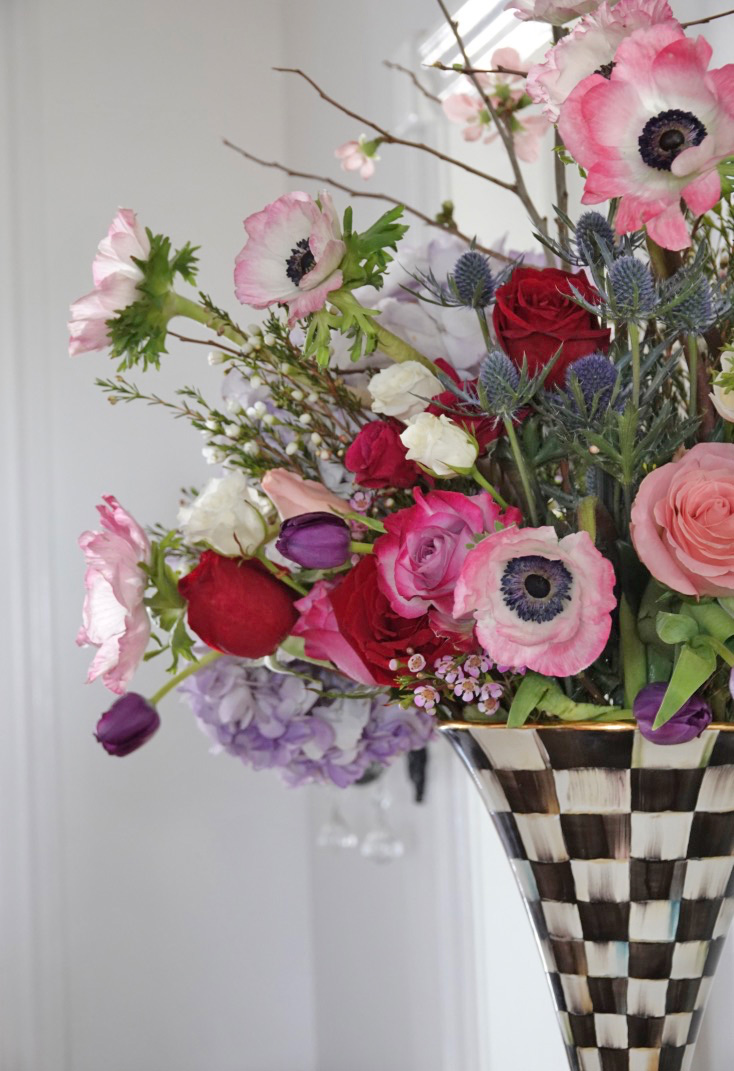 "Gal-entine's Day"…. it might not be an official holiday, however on February 13th Gal-entine's Day is celebrated as a day for gals to celebrate gals! My mom never called it by this name but the reason for getting together was the same…celebrating friendship with lavenders, pinks and reds…with plenty of hearts and delicious treats to enjoy. I hope these ideas will inspire you to plan your own "Gal-entine's Day" party! Set a pretty table, fill it with fresh flowers and something baked with love…your girlfriends will be forever grateful for celebrating with you. Laugh, be silly…enjoy!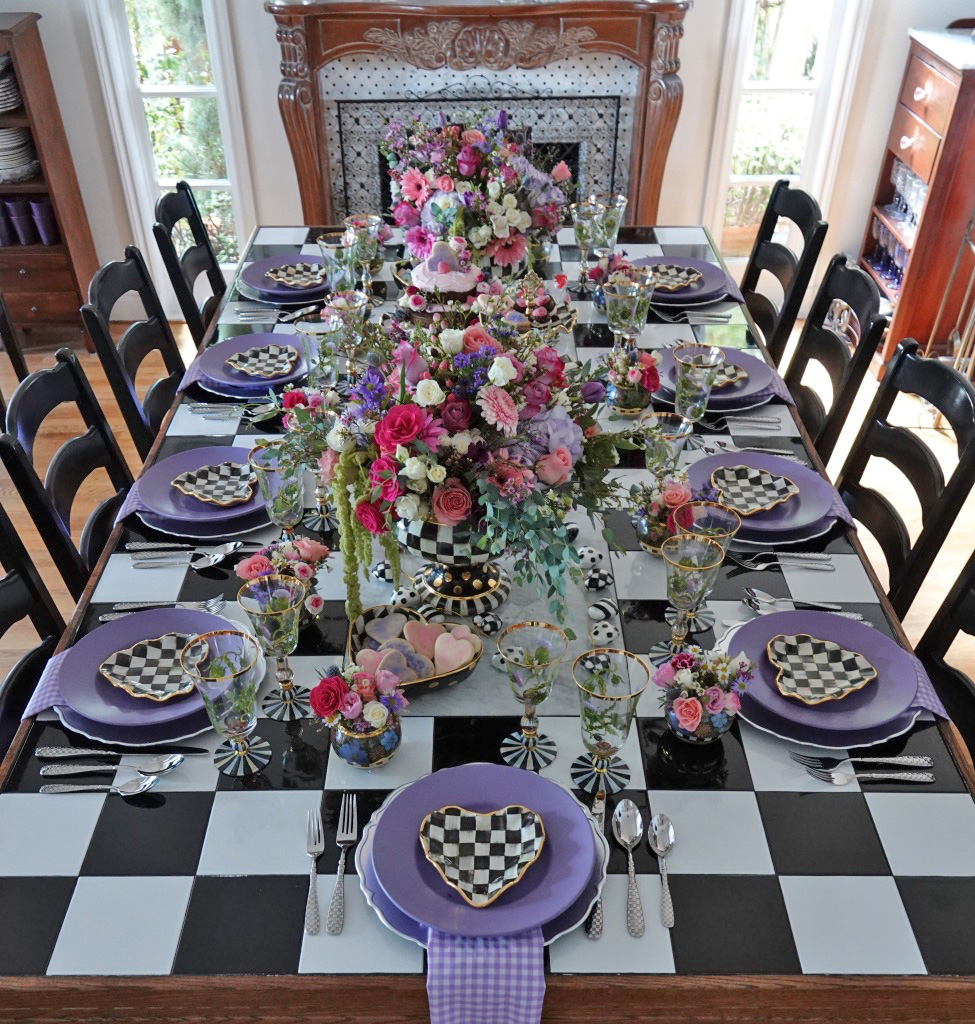 Many heartfelt thanks to MacKenzie-Childs for sponsoring this Gal-entine's Day party and for providing product for this post. I am truly grateful to the artisans, designers and all who help to create these beautiful home decor products. What I adore most about MacKenzie-Childs is that everything they create can easily fit into your home to create  a classic look with a bit of whimsy. A home with a touch of whimsy is always my favorite style!
Many thanks for stopping by and as always, I would love to hear from you!
xoxo…
Janice